What We Do:
Conserve Forests
Forests—and the water and wildlife that run through them—don't start and stop at property lines. They extend beyond human boundaries, providing habitats, waterways, and vast stores of carbon across their varied and vibrant landscapes. That's why we work with private landowners across those boundary lines—to conserve and sustain whole forests, connecting land across public and private ownerships for all of the benefits forests provide.
The forest landscape is an interwoven web of private ownerships and publicly protected lands. Nearly 60% of all forests in the U.S. are privately owned. These rich and varied forestlands provide an array of essential public benefits, including water filtration and delivery, connected wildlife habitat, carbon sequestration to mitigate climate change, and jobs for rural communities.
Unfortunately, America's privately owned forests are increasingly vulnerable to development pressure and fragmentation, as sale and development are often the "best" economic uses of these lands. We advance innovative, incentive- and market-based solutions to encourage landowners to conserve their forests and manage them for all the benefits that they provide.
Working with landowners, communities, and forest stakeholders, we develop conservation-based policies and economic incentives to sustain and restore America's privately owned forests, re-connecting natural forest functions across public and private ownerships. We envision a vast, vital, and resilient landscape of conserved forests across the U.S.
"As a leader in the nationwide effort to preserve, enhance, and restore private forests, Pacific Forest Trust provides an invaluable public service. And that's true whether you're a landowner, an outdoors enthusiast, or simply a citizen concerned about the health of the planet and its inhabitants.
— Jerry Franklin, Professor of Ecosystem Analysis, College of Forest Resources, University of Washington
Forest Landscapes Store Carbon and Mitigate Climate Change
Forests are the largest, safest, most expandable carbon sinks. Globally, forests remove approximately 20% of CO2 emissions from the atmosphere, reducing the heat-trapping layer surrounding the planet. The 60% of forests in the U.S. that are privately owned have the capacity to more than double their current carbon stores if they are intentionally conserved and sustainably managed. Properly managed, U.S. forests could remove an additional 1.5 billion tons of CO2 annually, a major part of the climate solution.
Whole Forest Landscapes are more Resilient and Adaptive
Whole landscapes are naturally resilient and adaptive. These native forest landscapes don't require people to irrigate or fertilize them to thrive. Fragmentation—where the landscape is broken up into several different management approaches such as when we convert forests for development or agriculture—weakens the natural systems that sustain those landscapes: with climate change accelerating, it is more important than ever to conserve whole landscapes, and, where possible, re-connect them.
Connected Forests Provide for Wildlife
In the U.S., 75% of threatened and endangered animals live on privately owned land, and more in forests than any other habitat type. According to the National Climate Change Adaptation Strategy, one of the most important things we can do to help animals and plants adapt to changing conditions is to conserve and connect the range of habitats on which they depend. This includes whole landscapes across ownership boundaries.
Forest Landscapes are key Watersheds
Forests provide us with cool, clean water and are a natural storage and delivery system. As drought conditions prevail in response to our rapidly changing climate, the sustainable management of forests becomes exceedingly important. Forests shade our rivers and lakes, clean water by removing nitrogen and other pollutants, and limit the amount of water evaporating into the atmosphere. And, the more natural, less disturbed the forest conditions are—with multiple ages, sizes, and structures—the better they function to collect, retain and meter water out for people to use.
How We Conserve Forest Landscapes
We Create Economic Incentives and new markets for Private Landowners to Conserve their Land
Working forest conservation easements provide private landowners the means to permanently conserve their forests for a variety of benefits while keeping the land privately owned, productive, and healthy. We pioneered this innovative form of the traditional conservation easement—now the national standard—to help landowners meet their twin goals of economic production and natural resource protection. Our conservation easements are strategically targeted to reconnect critical habitat and water linkages across property boundaries. For example, conserving well-managed forests abutting national forests, parks, and other protected areas, or within key watersheds.
We developed the first legislation that recognized the role of standing forests to help prevent climate change and created a regulatory market to pay landowners for those climate services. This market, valued in the hundreds of millions of dollars in 2015, now helps protect and sustain forests in over 22 states. Additionally, revenues from pollution allowances in California now funnel hundreds of millions of dollars annually into forests and other landscapes for their climate benefits.
We Conserve and Connect Forests
Landscapes are defined at varying scales depending on their functions. We work with scientists to define key ecological and economic landscape functions and target our work to help sustain these. We are currently pursuing a major strategic initiative to conserve one of America's priceless forested regions, California and Oregon's Klamath-Cascade. We have centered our on-the-ground conservation and restoration efforts to protect this area. Managing and conserving this region as one whole forest—rather than a series of fragmented properties—ensures clean and available water, regulates and mitigates stresses caused by the rapidly changing climate, provides habitat for plants and animals adapting to climate change, reduces fire risk, and supplies renewable energy.
The Klamath-Cascade
Stretching across 12 million acres in northern California and southern Oregon, the Klamath-Cascade region is a patchwork of public and privately owned forests. Its landscape encompasses one of the most productive and diverse temperate conifer forests on Earth, supporting the region's prolific timber industry, and is home to more than 600 species of plants and animals.
The forest landscape of the Klamath-Cascade has remained cooler and wetter than other regions in California that are warming and drying with climate change and is projected to continue to remain so as the rest of the state further warms and dries. Glaciers on Mt. Shasta, one of the Klamath-Cascade's iconic volcanoes, have expanded over the past 100 years, even as those in the Sierra Nevada have reduced by over 55%.
With steep declines in the region's timber economy, we are working to develop new, conservation-based sources of financial return to promote both restoration and conservation across property ownership boundaries that will ensure the continued economic and environmental health of the Klamath-Cascade region.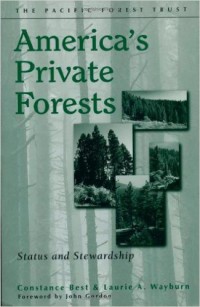 America's Private Forests: Status and Stewardship
This book, written by the co-founders of Pacific Forest Trust, examines private forests in the U.S. It presents research, data, and analyses of the current state of America's forests. Complete with an action plan for protecting private forests, this book offers specific recommendations to accelerate the conservation of privately owned forestlands.
Stay in the know. Get the latest news.
Subscribe
Our Conservation Projects in the Klamath-Cascade
We hold a growing network of conservation easements here and work to connect, conserve, and restore this vital, forested landscape.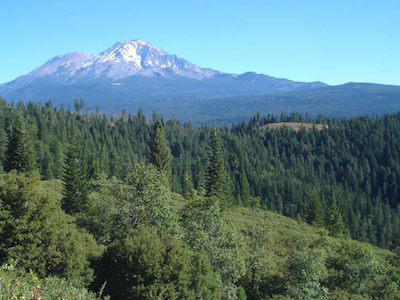 CA | 8,230 acres
Conserving the headwaters of the Fall River protects California's water supply, wildlife habitat, and jobs.
Current Projects and News
Recent Publications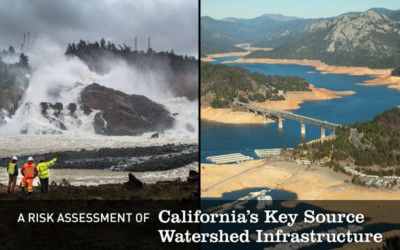 A new report by Pacific Forest Trust looks upstream to find a long-term, cost-effective water solution: repairing and maintaining California's watersheds.
The Latest from Our Newsroom
After 5 years of collaboration, a broad partnership has protected one of Oregon's largest family-owned forests for timber and wildlife. The Parsons family, who have managed Mountcrest Forest for nearly 100 years, have partnered with Pacific Forest Trust to ensure Mountcrest Forest will never be broken up or developed, and that it will continue to be owned and well managed by the Parsons family for timber, wildlife habitat, and watershed values.
In a San Francisco Chronicle Op Ed, PFT President Laurie Wayburn discusses the importance of the state's "natural infrastructure"—the forests, meadows and streams that deliver water to our dams—in solving California's water problems.
A new report by Pacific Forest Trust looks upstream to find a long-term, cost-effective water solution: repairing and maintaining California's watersheds.