McCloud Dogwood Butte
Working Forest Conservation Easement
 This 20-square-mile working forest enhances wildlife habitats, protects forest health and productivity, supports the local economy, and supplies clean water for the state of California.
Where the Mount Shasta headwaters flow from volcanic springs, at the junction of the Klamath and Cascade mountains, you'll find the McCloud Dogwood Butte Working Forest, spanning 12,646 acres. It is a piece of a forest landscape that not only supports a resilient northern California timber economy, but also provides the public with the benefits of cold, clear water, vast stores of CO2, homes for a wide array of wildlife, and more places to enjoy the outdoors.
This private forest integrates a larger landscape of National Forests to protect one of California's most pristine watersheds, critical for the state's water supply. McCloud Dogwood Butte is the source of dozens of cold-water springs flowing from within the vast volcanic formations of Mt. Shasta, supplying clean, cool drinking water for Californians downstream. After conserving McCloud Dogwood Butte in 2016, our network of privately owned working forests expanded to over 30,000 acres in the McCloud watershed—an area the size of San Francisco, California.
The McCloud Dogwood Butte Working Forest Conservation Easement achieves some of California's top resource priorities. The project creates permanent connections among old-growth reserves in the Shasta-Trinity National Forest, benefitting imperiled species that rely on this crucial habitat while expanding access for recreational uses. These connections provide wildlife with essential corridors for migration and options to adapt to changing climate.
Just ask a resident of historic McCloud, California, and they'll tell you the area's most important assets are the private working forests, which have supported the area for over 100 years. Thanks to our partnership with the Hancock Timber Resource Group, we have realized strategic landscape-scale impacts through conservation of this commercial timberland property.
"Stewardship is a core value of our organization, so we are pleased and proud to partner with the Pacific Forest Trust in the effort to preserve vital forest lands. This partnership is an example of how solid cooperation and creative approaches can support and expand quality jobs in the forest and wood products industries while at the same time keeping wildlife and watersheds healthy. In addition, it supports the local economy through the protection of viewsheds and expanded recreational access."
—Hancock Timber Resource Group President Brent Keefer
Why Conserve this Property?
It Benefits Natural Water Systems
Due to the hydrologic wealth of this volcanic, forested region, this conservation easement safeguards more than 30 miles of waterways fed by 74 volcanic springs. Together with 766 acres of riparian habitat and 236 acres of wetlands, the McCloud Dogwood Butte forest provides clean, cool water for millions as far away as the Central Valley and San Diego.
Why Conserve This Property?
It Saves Wildlife Habitat
This project will conserve and restore habitats for 127 species including 10 special status plants and animals. Northern spotted owls, American peregrine falcons, willow flycatchers, Pacific fishers, and American pine martens have been known to use the property. Over 1,800 acres of rare and significant habitats such as complex older conifer forests, wetlands, aspen groves, and oak woodlands are designated for enhancement.
Why Conserve This Property?
It Mitigates Climate Change
In order to promote forest health and resilience under a changing climate, McCloud Dogwood Butte will be managed to maintain and enhance older forest characteristics and generate higher carbon stores than typically found in commercial forests. This conservation project will also enhance ecological functionality and adaptive capacity across the larger landscape.
Why Conserve this Property?
It Provides Educational and Scenic Enjoyment
The project provides expanded public recreational access to complement the extensive trail systems in the national forest around Mt. Shasta. The property's conservation also protects the scenic views enjoyed by motorists along five miles of the National Volcanic Scenic By-Way.
Why Conserve This Property?
It Supports the Local Economy
The project supports on-going, sustainable timber management that achieves high environmental standards and employment in this economically disadvantaged area. Expanded public recreational opportunities also contribute to the burgeoning recreational and visitor-based economic activity of the region.
Connecting a Larger Forest Landscape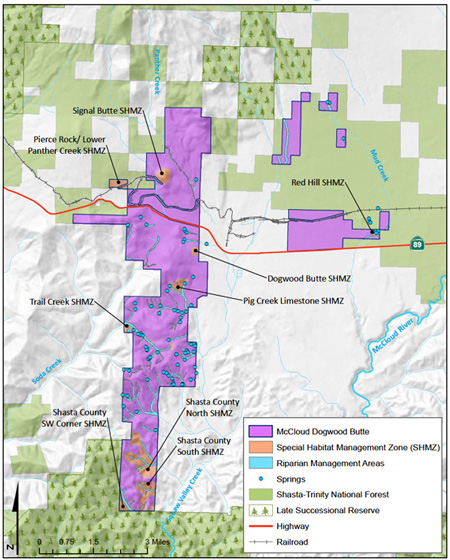 Consistent with California's climate adaptation strategy, safeguarding Mt. Shasta's headwaters and the broader Klamath-Cascade regions will ensure the area remains a likely climate change stronghold for wildlife. The area is naturally productive, has abundant water resources, and is world-renown for its biodiversity. Habitats here are also diverse and able to support a wide variety of life with large old trees, standing dead and down trees, and complex forest canopies.
Conservation of the McCloud Dogwood Butte Working Forest provides lasting landscape connectivity across public and private boundaries for wildlife adapting to climate change. The McCloud Watershed is a 50-50 mix of public and private ownerships. The McCloud Dogwood Butte Working Forest Conservation Easement provides a bridge between 350,000 acres of the Shasta-Trinity National Forest to the north with the main 1,783,000 acres, as well as with our existing network of conserved private forests. These connected and conserved forests enhance the ecological function of this public-private landscape through the expansion of large, natural blocks of forests, allowing animals to migrate through corridors and across boundaries while providing more diverse habitat options that meet the specific requirements of wildlife on the move.
Who Lives There?
Many species call the McCloud Dogwood Butte Working Forest and the surrounding landscape home. Learn more about the species in this area.
This Project Conserves Diverse Habitats
The sustainable management guided by the terms of this working forest conservation easement will create greater structural diversity of conifer habitats across the property. It will require the retention of trees selected for habitat value in every harvest; increase multi-storied stands with diverse forest structure; increase the abundance and distribution of large live and dead conifers and hardwoods for their unique habitat benefits; and make sure the forest is logged at a rate less than it is growing, to restore older forest qualities while sustaining jobs.
Conservation Project Partners
Thanks to our partners for collaborating to ensure the natural values of this land are conserved for future generations!
How You Can Support Projects Like This
Support forest conservation and make a difference for this project and others like it.
Donate Today
Stay in the know by keeping up-to-date with our forest conservation news.
Subscribe
Other Projects in the Klamath-Cascade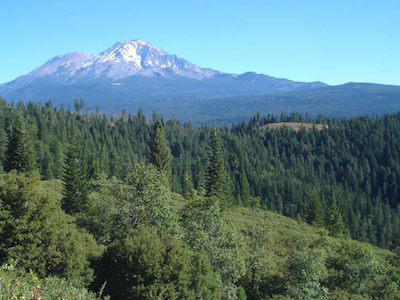 CA | 8,230 acres
Conserving the headwaters of the Fall River protects California's water supply, wildlife habitat, and jobs.