Summer 2016 ForestLife
Wildlife's Modest Champion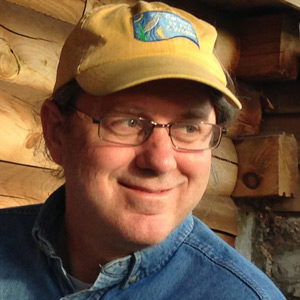 Paul Henson has worked to conserve habitat for myriad species for over 25 years. Currently, he leads conservation efforts for northern spotted owls and Pacific fishers, as the State Supervisor in Oregon for the U.S. Fish and Wildlife Service (USFWS). We caught up with him to talk about these animals as well as the USFWS's decision to not list the Pacific fisher as "threatened" under the Endangered Species Act (ESA).
How did you get your start in wildlife conservation?
I started as a chemistry major but found my college roommate's biology assignments more interesting. I left school in New York and moved to California where I traveled through beautiful and wild Big Sur. I grew an appreciation for wild places and earned a Bachelors degree in Environmental Studies and a Ph.D. in Wildlife Conservation. Throughout my education and career, I've worked radio tracking sea otters up and down the California coast, studying breeding behaviors of trumpeter swans in Alaska, and conserving habitat for Pacific fishers, northern spotted owls, and other species in Oregon.
How did the USFWS arrive at the recent determination to not list the Pacific fisher?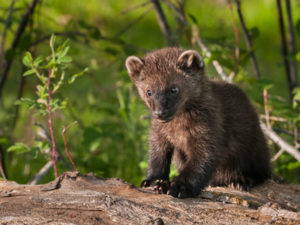 There are real and pressing management concerns for the fisher, but those concerns don't necessarily mean that the species is threatened with extinction now or in the foreseeable future, which is what must be shown in order for a species to be listed under the ESA. In the end, while we identified several stressors on fishers (e.g., loss or fragmentation of habitat in certain areas as well as toxicants such as anticoagulant rodenticides often used in marijuana cultivation and widely distributed throughout fisher habitat), we have not observed any significant negative effects on overall fisher population levels. Fisher populations have remained relatively stable over the past decade or so, and there are significant amounts of suitable fisher habitats scattered across Washington, Oregon, and California that are protected.
What voluntary conservation actions can private landowners take in order to help fisher recovery?
"Managing as much as possible to mimic natural forest processes is probably the best thing one could do to help conserve fisher, spotted owl, and other forest species."
There are many things private landowners can do to support fisher conservation, including: 1) maintaining or developing fisher habitat on their land; 2) supporting ongoing fisher surveys and research efforts by allowing property access to surveyors and researchers or providing staff, equipment, and financial support; 3) supporting fisher reintroduction efforts; and 4) avoiding or minimizing the use of anticoagulant rodenticides and other toxicants that may harm or kill fishers. Landowners may voluntarily enroll in candidate conservation agreements with assurances to receive regulatory certainty should fishers ultimately become listed under the ESA.
What future challenges do you see for the Pacific fisher, northern spotted owl, and other forest-dependent species?
One of the biggest challenges in managing forest species into the future arises from the effects of climate change on forest ecosystems and associated species. While the evidence indicating climate is changing is unequivocal, the effects of climate change on various ecosystems at a more local level are much more difficult to predict. The degree and rates of forest change that could occur and the capacity of forest species to respond to those changes are, at this point, untested hypotheses. Another important issue is updating state forest practices and regulations to reflect the best science concerning the conservation of publicly owned natural resources that occur on private lands, while still enabling private landowners to make a reasonable economic return from their lands. One important question is whether forest practices can be modified to better emulate natural forest processes and forest development life stages on public and private lands.
How has regulation affected northern spotted owl recovery? What factors influence their survival?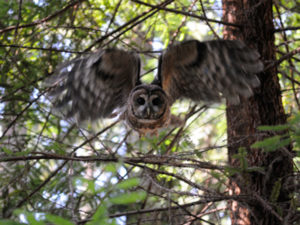 The ESA listing of the spotted owl brought federal land managers and the USFWS together to implement the Northwest Forest Plan, which in turn helped conserve the last best remaining habitat on federal lands. Although there are some areas where lack of spotted owl habitat is still limiting population expansion, the most pressing threat to spotted owls today is competition from the recently arrived barred owl. The barred owl is likely the major factor responsible for the spotted owl's continued population decline.
You've said that the 2010 Safe Harbor Agreement has the potential to be a pivot point in northern spotted owl recovery in Oregon. What results have we seen from this?
The Oregon Department of Forestry has enrolled 13 properties totaling about 3,200 acres into the Safe Harbor Agreement. In addition to maintaining existing spotted owl habitat, these landowners will be managing their forests to create older and more diverse forest stands than would otherwise be developed under more typical forest management (tree plantations). These include uneven-aged management, adding tree diversity, and creating additional snags and downed wood. So far, about 1,792 snags and 1,314 additional downed wood logs have been created, which adds diversity and generates habitat for spotted owl prey.
What voluntary conservation actions can private landowners take to help spotted owl recovery?
Some simple actions include: 1) managing for diverse, uneven-aged forests; 2) retaining more downed wood; 3) thinning versus clear-cutting; and 4) providing habitats for foraging, roosting, and dispersal. These actions will provide landscape diversity and more suitable habitat for spotted owls and their prey. Small landowners can also support spotted owls that are nesting on adjacent or nearby lands that are being specifically managed for spotted owls by providing habitats that allow for foraging, roosting, and dispersal.
What are the most rewarding things about your career? What are the biggest challenges?
The most rewarding moments in my career were closely tied to my biggest challenges, and those challenges actually turned into big rewards for species and landowners. Many endangered species are found on private lands. However, landowners often see their presence as a liability with political and financial encumbrances. We try to make endangered species a non-issue through the Safe Harbor Agreement and partnerships. If landowners keep habitat in baseline condition, they won't be regulated if they build a barn or another structure. Through these protections and assurances, we give landowners peace of mind, which promotes conservation. When you pull that off, it's super rewarding.
Photo Credit:
Paul Henson picture provided by the U.S. Fish and Wildlife Service
More in this Issue of ForestLife