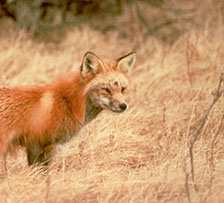 Quick Facts
Latin Name: Vulpes vulpes necator
Status: Endangered
Population: About 50 in California, Oregon, and Nevada
Diet: Rodents and mule deer
Weight: 4.5-9 pounds
Length: Up to 41 inches
About the Sierra Nevada Red Fox
The Sierra Nevada red fox lives in the subalpine regions of the Sierra Nevada mountains. With only about 50 individuals remaining, it is highly endangered.
The Sierra Nevada red fox is a subspecies of the red fox (Vulpes vulpes), which has a narrow pointed muzzle, long thin legs, and a thick bushy tail with a white tip. The Sierra Nevada red fox is the only red fox that occurs naturally in the high mountain habitats of the Sierra Nevada and southern Cascade mountains of eastern California. They live in the open conifer woodlands and mountain meadows near the treeline.
The Sierra Nevada red fox is probably the most rare and endangered red fox subspecies in North America. A population is known to occur in the Lassen Peak region, where they are occasionally seen or photographed.
Relatively little is known about the Sierra Nevada red fox, as they are very hard to study. They live in remote, rugged mountain habitats. They are generally solitary and so do not occur in groups or herds. Like other red foxes, they are nocturnal, and they usually avoid people. Their remote rugged habitats, low population density, and elusive habits make them very difficult for biologists to study.
For more information: USDA Forest Service
Photography: Image #1 – Keven Law, British Wildlife Centre, Image #2 – USDA
HABITATS
The Sierra Nevada red fox lives in the following habitats:
The Sierra Nevada red fox needs your help to preserve its natural habitat. Together, with Pacific Forest Trust and our network of partners, we can all protect the spaces this species needs to survive.
Stay in the know. Get the latest news.
Subscribe
Conservation PROJECTS WITH
Sierra Nevada Red Fox HABITATS
The Pacific Forest Trust is dedicated to preserving natural habitats and forest systems where animals can thrive. Explore some of our conservation projects and easements in and around the Sierra Nevada red fox habitat.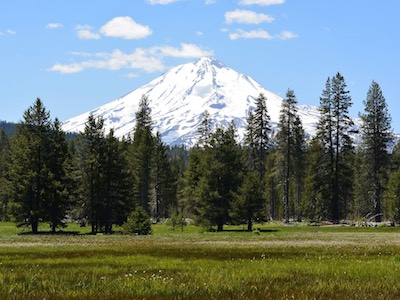 CA | 3,468 acres
A home to headwaters that provide cold, clear water for people and an abundance of wildlife.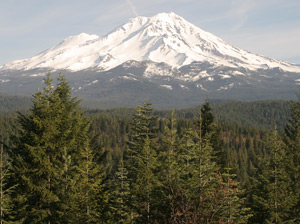 CA | 12,646 acres
This project expanded conservation of the McCloud River Watershed, benefitting California's water, wildlife, and climate.