Celebrate our 25th Anniversary at Forest Fete
April 27, 2018, 6:00 pm
Julia Morgan Ballroom, 465 California St, San Francisco
Forest Fete is the premier social event for the forest community in the West. Join more than 200 leaders in forestry, academia, climate action, sustainability, and environmental advocacy for a celebration of our work together to protect forests for all of their benefits.
At this year's Forest Fete, we will mark our first 25 years with lively conversation, superb dinner and refreshments, and (for the first time ever) an exciting live auction that will feature one-of-a-kind experiences donated by our generous sponsors!
Live Auction Preview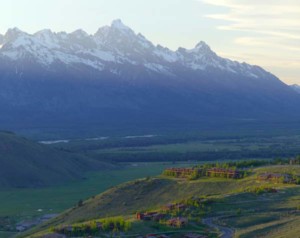 The opportunities for outdoor recreation in the beautiful valley of Jackson Hole, Wyoming are nearly endless—and one of our featured auction items will be an inclusive experience at an all-season resort. Situated near Grand Teton and Yellowstone National Parks, the exclusive and luxurious Amangani (which translates to "the Peaceful Home") features magnificent views of the Tetons and the Snake River Range. Amangani, a 40-suite retreat that clings to the crest of East Gros Ventre Butte some 7,000 feet above sea level, is a year-round destination and an ideal base for exploring the magnificent natural surroundings. Will you win the chance to see it for yourself?
Watch this space for more live auction item previews.
Sign up here to find out more about Forest Fete, including announcements of honorees, more live auction items, when tickets go on sale, and more.
Become a Sponsor
Increase your visibility with leaders in forestry, water policy, academia, climate action, sustainability, and environmental advocacy by sponsoring Pacific Forest Trust's 25th Anniversary Forest Fete. Find out more about sponsoring Forest Fete by signing up on the form above, or contact Nina von Nyssen at 415-561-0700, ext. 11.